Our Legacy of 1st…
Ni Lay Naing Co., Ltd. was founded in 1993 by Dr. Maung Maung Lay, first medical doctor who started working as a consultant in this business. He then became the founder and the first Chairman of  Myanmar Pharmaceutical and Medical Equipment Entrepreneurs' (MPMEEA). In 2011 he became the first in Myanmar to receive the Global Leadership award in Health-Care.
---
Our Mission
To provide the highest quality of goods and services to the public.
Value for money to preserve health and well-being.
---
Our Vision
To be a leader in the health-care and related fields — locally, regionally and globally.
---
Our Organogram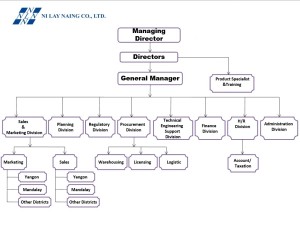 ---
Our Distribution Channels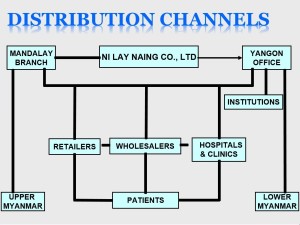 ---
Our Bankers
Myanmar Foreign Trade Bank (MFTB)
Myanmar Investment and Commercial Bank (MICB)